News: 5th Anniversary Gifts - History, Tradition and Ideas
Article Date(s):
05/04/2016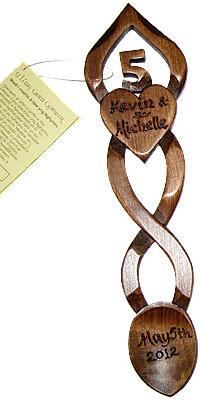 People have been giving gifts to celebrate wedding anniversaries for centuries, with the earliest recorded instances from Central Europe. There is now a tradition of using a different material to celebrate each milestone in a couple's life.
The strength of your marriage bond is represented by the traditional gift of wood for your 5th anniversary. Wood is strong and long-lasting. The earliest reference of giving wood after 5 years comes in the late 19th century, but in Wales Wooden Love Spoons have been given for centuries to celebrate all anniversaries.
The young lover would give gifts of sweets or cakes; but they would also give a special, more personal gift to the object of their desire, the Welsh Love Spoon. Some of the early love spoons can be seen on display at the Welsh Folk Museum in Cardiff. There is even one that dates back to 1667.
Through the worldwide web, we can now offer everyone unique and traditional fifth anniversary gifts to celebrate the 5th anniversary. There are four hand-carved Welsh Lovespoons specifically to celebrate the 5th Wedding Anniversary. All can be engraved, free of charge, with your names and date of the Anniversary. Click here for more information.
All you need to know about our range of Welsh Love Spoons :
Full Range of Spoons - Symbols & Meanings - Our Carvers - Love Spoon History - Engraving - Finish & Wood