It's a custom for the bride to present wedding favours to her guests at the reception. These faours are usually placed on the tables at the wedding feast. They're little momentos of the special day and given to thank guests for coming as well as to seek a blessing on the marriage. Guests will be reminded of the happy couple & a momentous occasion!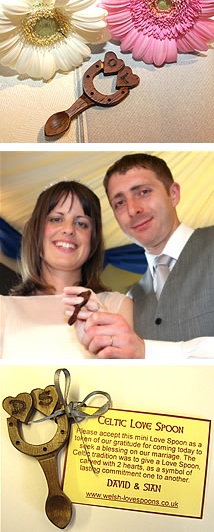 Hand carved Mini Lovespoons: We have produced mini love spoons as wedding favours thereby marrying this modern custom with the old Welsh tradition of presenting a hand-carved wooden love spoon at a wedding. Unlike other suppliers, we do not sell mass-produced replicas. All the miniature lovespoon favours are hand-carved.
Our Wedding Favours can co-ordinated twith the theme of the wedding, matching the flowers or the bridesmaid's dresses - It's your call!
Initials Engraved free: We can engrave by hand the initial of the first name of the bride and groom on to the mini love spoons. The wedding favours will then be truly unique, and will never be forgotten.
Fast Dispatch: All orders sent within 48 hours (2 working days). If your order is very urgent, please contact us. We're here to help, and ensure that your Lovespoons arrive on time.
Free Gift Card: Each lovespoon comes with a little gift card with the following text "Please accept this mini-Lovespoon as a token of our gratitude for coming to seek a blessing on our marriage. The Celtic tradition was to give a Lovespoon, carved with 2 hearts, as a symbol of lasting commitment one to another." We can personalise these Cards, and add your names. We can even change the message. Please contact us after placing the order if you would like a personalised gift card. Most people attach the gift cards to their mini Love Spoon wedding favours with a ribbon that matches their colour scheme, or they simply place the card next to the favour on the tables.
All you need to know about our range of Welsh Love Spoons :
Symbols & Meanings - Our Carvers - Love Spoon History - Engraving - The Finish & Wood used